Welcome
This website intends to show the beauty and natural history of plants and animals living in the cloud forests of the Colombian Western Cordillera and surroundings, and especially those at "El Refugio" nature reservation.
Established 1978, "El Refugio" is a privately managed nature reservation, dedicated to the conservation of the flora and fauna of the western Andes of Colombia. It is located on the Western Cordillera of Colombia, between 1900 and 2300 m. alt., near the city of Cali. It includes 14 hectares of pristine forest, as well as 4 hectares of natural regeneration and gardens. The forest of El Refugio are part of a large forest of about 1000 hectares, located on the crest of the western Andes.
Only 30 minutes away from Cali, and very easy to reach, "El Refugio" offers a unique opportunity for nature lovers to make observations on the flora and fauna living in the cloud forests of Colombia.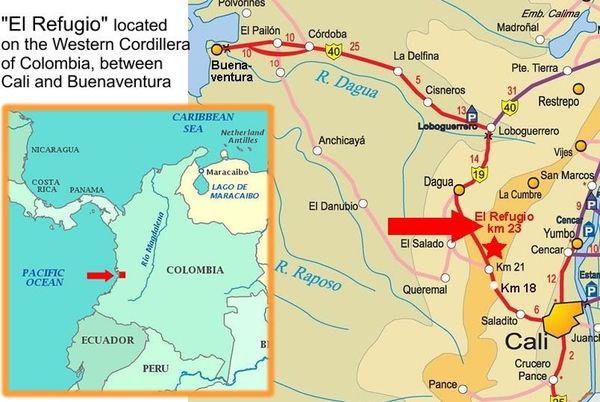 The Western Cordillera of Colombia is known for its very high biodiversity, with a great number of orchids and bromeliads, many of them endemic.  If you like to watch orchids under natural conditions, El Refugio is a good opportunity for you.